Archived paintings
This is a selection of some of my paintings which I have sold, gifted or kept in my own collection because I am particularly fond of them.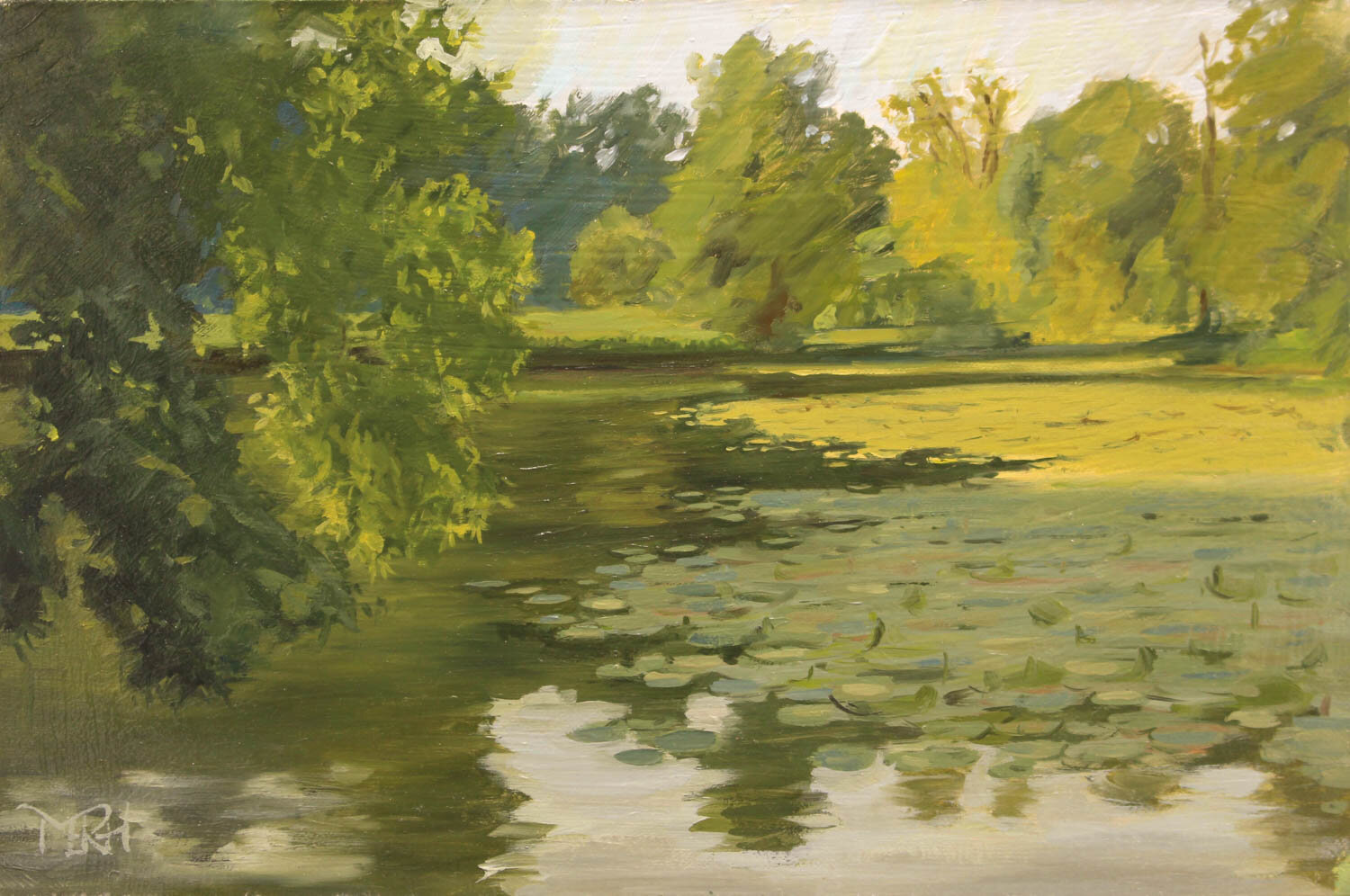 'Pretty Pond in Morning Light'
Oil on linen panel, 20x30cm
I painted this piece in a lovely, tranquil spot by a pond full of lily pads. I loved the way the the tendrils of sunlight crept across the lily pads and touched some of the overhanging trees.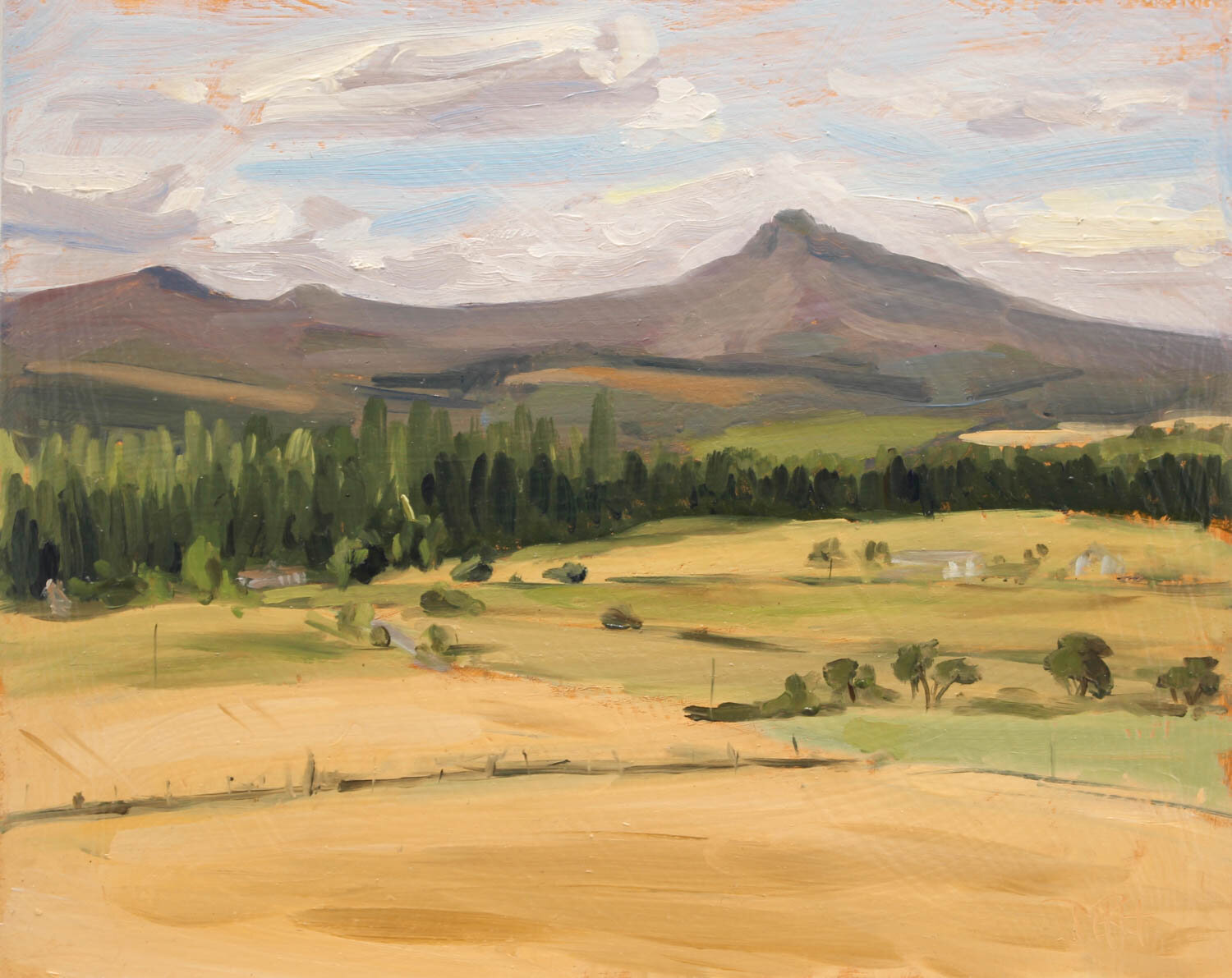 'Bennachie Study, Summer'
Oil on linen panel, 24x30cm
I painted this as a preliminary step for a commission piece. It was a bought by a lovely couple to celebrate their wedding anniversary.
'Seacliffs, Seagull and Sail Boat'
Oil on linen board, 20x30cm
I painted this piece from a vantage point high above the beautiful village of Staithes in North Yorkshire. It was really windy and the gulls were shrieking around me so it was a really exhilarating experience. I felt I captured the scene well and also the particular energy of that moment and I'll admit that I don't think I will be able to part with this painting!
'Raspberry Ripple Tulips'
Oil on board, 11x14 inches
This piece was painted alla prima and from life, using some gorgeous Spring tulips, which reminded me of raspberry ripple flavoured ice cream! There is something so vibrant and juicy about Spring flowers after the stark winter, they are irresistible. It has just been sold to a lovely lady - I hope it will be enjoyed by her for many years to come.
'Intrepid Sea Stack at Cullen Bay'
Oil on panel, 8x10 inches or approx. 20x25.5cm
I created this painting working en plein air at Cullen Bay in Moray, beside my painting partner that weekend, Valérie Pirlot (you can see her lovely work at www.valeriepirlot.com). We caught the last of the afternoon sunshine as the roaring waves crashed onto the beach. As luck would have it, some artists from a local art group stopped by so we had a nice chat with them! This painting has recently been sold.
'Wise Old Tree'
Oil on canvas board, 8x10 inches
I painted this picture alla prima and en plein air in Aberdeenshire on a lovely afternoon in July. It is one of my favourites and will remain in my private collection.
'Portrait of Mum'
Oil on panel, 14x11 inches
I painted this picture one evening whilst on an extended family holiday in the South of France for my Mum's birthday. Beautiful though she is, she wasn't the best model as she chatted, laughed and moved around far too much!!
'Dappled Light, Place St. Didier, Avignon'
Oil on panel, 11x14 inches or approx. 28x36cm
This picture was painted alla prima from a photo reference I took whilst on holiday in Provence. Painting en plein air that day would not have been wise as it was 38 degrees celsius in the shade! This painting was recently sold to a new collector.